Artists' Lights
Introduction
In the UK and worldwide there are a growing number of temporary and permanent installations by artists using light as their medium. A highly selective overview of projects and individual examples in the UK include the Out of Darkness project which produced a number of permanent light works for Wolverhampton, and Lightshift which showed temporary installations over seven nights in the Forest of Dean in 2001 (www.forestofdean-sculpture.org.uk and www.publicartonline.org.uk/casestudies/temporary/lightshift/), both curated and managed by Sam Wilkinson of SWPA Ltd.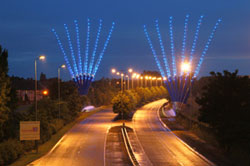 Mersey Wave by Art2Architecture, 2005. Liverpool.
Other single works include Mersey Wave , a major new work for Liverpool by Art2Architecture, Travelling Light in North Somerset and the lighting scheme for Lighthouse in Poole both by Peter Freeman, the lighting scheme for Tyseley Energy from Waste Facility, Birmingham and Light Beacons in Bristol both by Martin Richman, and Making Waves by Ray Smith in Teignmouth. There are of course many others.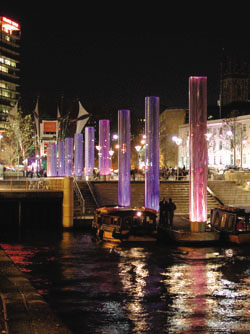 Bristol Beacons by Martin Richman.
Photo: Bristol City Council Visual Technology.
There are a number of new projects in 2005 including artist design Christmas lights in Gloucester, one-off installations showing for a month or two in East Kent and York, and installations which will be shown again at the same time each year alongside newly commissioned work, as in the City of London project.
Luci d'Artista, Turin
In 1998 the Italian City of Turin commissioned 14 Italian artists to design Christmas illuminations for the thoroughfares of the city. Each year since then, Luci d'Artista has seen new commissions by international artists (Mario Airo, Daniel Buren, Jenny Holzer, Rebecca Horn, Joseph Kosuth, Nicola de Maria, Mario Merz, Jan Vercruysse and Gilberto Zorio) added to this annual city-wide display. Part of Turin's ongoing regenerative strategy, the project and its related programme of events comprises an important element in the city's endeavours to confirm its role as a major international centre for contemporary art.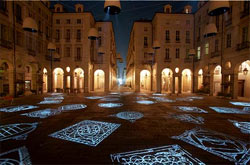 Cosometrie by Mario Airo, 2002. Turin.
Photo: Giorgio Sottile.
In 2005, the artists' Christmas lights will be shown from 5 November 2005 to 20 March 2006.
For further details see the case study on this website.
Fête des Lumières, Lyons
In the following year, 1999, the French City of Lyons began to commission contemporary artists and designers working with light to illuminate important historic and modern buildings in the city and to create works to animate its streets. Fête des Lumières grew up around La Fête de la Lumières,
which was established in about 1892 as an annual celebration on 8 December to give thanks to the Virgin Mary who purportedly saved the city from a deadly plague in the Middle Ages.
In 2005, Fête des Lumières runs for four days from 7 to 10 December and includes sixteen new works in central locations, a special event on 8 December and additional installations and performances in the arrondisements of the city.
Le Festival Arbres et Lumières, Geneva
Every year since 2001, the trees in the centre of Geneva have been lit up, decorated or given soundtracks by artists from both Switzerland and further afield. Artists are selected and locations are chosen during a long preparatory period. The whole event involves 25,000 hours of work from one hundred individuals including gardeners and electricians. The event runs for five weeks from 2 December 2005 to 8 January 2006.
In 2005, the artists were from Switzerland, France, Germany and the UK, and included Daniel Buren, Jean-Luc Vilmouth and Ron Haselden.
Full details (in French) are on the website www.festivalarbresetlumieres.ch
Close to You, Gloucester
This new citywide piece of light sculpture has been created by artist Ron Haselden working with three schools in the centre of Gloucester. His proposal comprised a set of Christmas lights designed by children and a complementary set of coloured lights which could be changed for Gloucester's many other festivals throughout the year.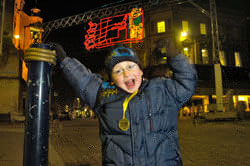 Ewan Trehearne with his Santa and his Sleigh design, 2005
Part of 'Close to You' Christmas lights project by Ron Haselden.
A local artist, Susie Walker, worked with the schools and supported the artistic process. Over 200 drawings inspired by the closeness that Christmas can bring to families and friends were produced and were shown to the public in an empty shop in the city centre. A small committee of elected councillors then selected the drawings which best illustrate Christmas and which would translate well into lights. The artist and his engineer carried out the technical work to bring the lights into being. These are hung on catenary wires spanning the two streets which cross in the city centre.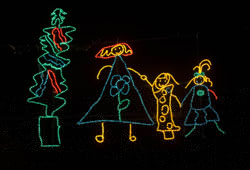 Children's Christmas lights designs
Part of the 'Close to You' project by Ron Haselden, 2005
Phase 2 of the project will be to add the changing celebration lights which will colourwash the pavements beneath them originally proposed by the artist as part of the whole scheme. Further images created by children may also be added in future years. The City Council would also like to extend the area covered by the lights from the current central cross streets of the city down to the docks and maybe also the river.
The Christmas lights will be illuminated throughout December 2005 and January 2006. Further information is at www.gloucester.gov.uk
Light Up Queen Street, London
Four internationally acclaimed contemporary artists have been commissioned by the Corporation of London to create these new artworks which draw attention to the city's streetscape, buildings and history. It is planned that this will become an annual programme with existing works resited and new artists commissioned each year, in the same tradition as the Turin and Lyons events.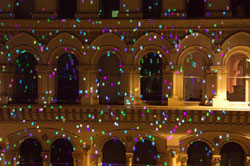 Float by Tim Head, 2005.
The artists include Susan Collins, who in Underglow , literally lights up the world beneath the feet of Londoners by illuminating 20 drains in the area with LED lights, revealing the complex of tunnels which runs under the City of London. Tim Head, in Float , has brightly coloured pixels of light slowly rising and falling across the ornate stucco facade of the building at the junction of Queen Street and Cannon Street. In Rush Hour, Morning and Evening, Poultry Lane, Mark Lewis has filmed the elongated shadows of commuters during the evening and morning rush hours which are then inverted, enlarged and projected back onto the area, bringing a fresh perspective on the familiar. David Ward's audio visual work, Nocturne , at St Michael Paternoster Royal and College Street, illuminates the church with a projection of a beautiful night sky accompanied by summer birdsong, which slowly changes as darkness falls picking out details on the church facade.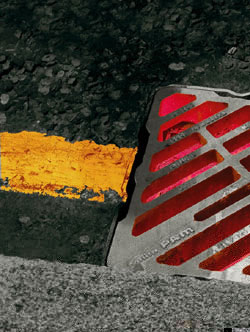 Underglow by Susan Collins, 2005.
The project has been curated and managed by Modus Operandi Arts Consultants and will be shown from 26 November 2005 to 29 January 2006.
Further details at www.cityoflondon.gov.uk/Corporation
Sparks, Canterbury, Herne Bay and Whitstable, Kent
Sparks is a programme of three temporary site specific art installations using light which have been commissioned as part of the 'Make it Real' cultural programme in Canterbury and East Kent. The installations, curated by Insite Arts Ltd, are showing from late November until early 2006 (details are different for each installation).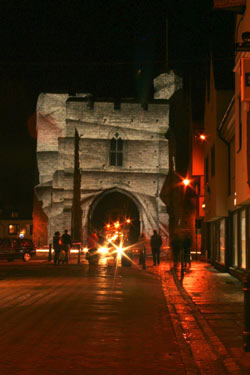 Gatefold by Heinrich and Palmer, 2005. Canterbury.
Photo: www.dragon-media.co.uk
Gatefold by Anna Heinrich and Leon Palmer (24 November 2005 to 6 January) is a large scale projection onto Westgate Tower, Canterbury which appears to fold and unfold of the architecture in a slowly evolving sequence.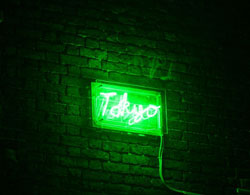 Bay Windows by Vong Phaophanit and Claire Oboussier, 2005. Herne Bay.
Photo: www.dragon-media.co.uk
Bay Windows by Vong Phaophanit and Claire Oboussier (26 November 2005 to 24 February 2006) shows a selection of Herne Bay residents' hand-written 'dream destinations' scaled up and reproduced in various colours of fine neon and installed at indoor and outdoor sites around the town.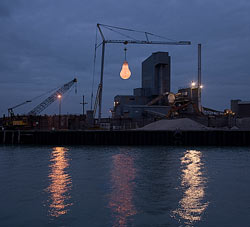 A New Moon by Claire Morgan, 2005. Whitstable Harbour.
Photo: Sarah von Holstein
A New Moon by Claire Morgan (3 December to 6 January 2006) is a light-base sculpture in the form of a giant domestic light bulb compose of hundreds of domestic light bulbs, suspended from a tower crane at Brett Aggregates Ltd., Whitstable Harbour. The bulb sculpture occasionally flickers to reveal its inner filament.
Further details are at www.makeitreal.co.uk
Radiance, Glasgow Festival of Light 05
Radiance comprised nine lighting commissions by artists and designers including NVA / Nich Smith, Simon Corder, Dave Bryant and Michel Moglia, and a visual art programme of fourteen light, sound and film installations curated by Katrina Brown. Amongst the artists from Glasgow and from Europe were Ross Sinclair, Fiona Banner, Gunilla Klingberg, Sans Fa̤on, Ergin ̇avusolglu, Ceal Floyer, Franck Skurti and Belinda Guidi.
Radiance ran at sites in the central area of Glasgow from 25 to 27 November 2005 . Further details of all the commissions and a location map are at www.radianceglasgow.com.
Renaissance: Illuminating York
On 29 October 2005 , new light works by artists dramatically illuminated many of the heritage sites in the city centre. New permanent works include loop.PH's Weather Patterns, at York Art Gallery. These original, contemporary luminous windows show architectural details found in the city in York which are animated through changes in the atmospheric conditions using digital sensor and display technology. Gateway to the Quarter in Finkle Street, designed by Bright White, is an outdoor digital art gallery where two video projectors and screens will showcase local, national and internal work in digital film, art and animation.
New temporary works include Night Window by Sian Emmison and Vicki Long where motifs from the city's mediaeval stained glass tradition are projected as moving images onto the windows of St Mary's Church, Castlegate (to Spring 2006); The Square by KMA Creative Technology with Dr Damian Murphy (to May 2006) uses surveillance technology to create an interactive exploration of movement, space and sound; A Sense of Place by Mark Hildred, Damian Murphy and John Oxley (to March 2006) in the first floor of Bootham Bar explores in light and sound the link between the Bar and York Minster; Lighting artist Patrice Warrener's work, The Heart of Yorkshire , lit up the entire western facade of York Minster (29 October to 5 November 2005) using his unique chromolithe technique with which he literally paints with light, picking out sculpted architectural details.