Inspire, South East Northumberland Public Art and Design Initiative
Introduction
The South East Northumberland Public Art and Design Initiative, or Inspire, was set up in 2003 to improve the built and natural environment in South East Northumberland through the involvement of artists and better design. By bringing good design to the public realm the aim is to change negative perceptions, contribute to a contemporary environment and raise aspirations for the future. Through these actions, it is hoped that people will be encouraged to stay in the area and take pride in it, and that others will tempted to move to South East Northumberland.
Inspire is a partnership of three local authorities - Wansbeck District Council, Blyth Valley Borough Council and Northumberland County Council - the South East Northumberland North Tyneside Regeneration Initiative (SENNTRi) and Northumberland Groundwork Trust. It has the support of Commissions North and Northern Architecture. Funding for the project comes from the local authorities and the Northumberland Strategic Partnership via the Single Programme.
Background
South East Northumberland covers 56 square miles and has a population of 141,000 - nearly half the population of Northumberland - in an area amounting to 5% of the total land area of the county. It includes several of the county's largest towns - Blyth , Ashington, Cramlington and Bedlington and is defined by the administrative boundaries of Wansbeck District Council and Blyth Valley Borough Council.
It is an area which has faced major challenges and contains 17 of the county's 25 most deprived wards. The decline of coal mining and related industries has resulted in high levels of unemployment, poverty and ill health. Educational attainment has been low and there has been a lack of aspiration and self-confidence amongst many communities. Both built and natural environments have fallen into neglect, reinforcing negative perceptions within and outside the area.
Now, however, strong partnerships have been formed between communities, agencies, local authorities and the private sector committed to regeneration of the area. A clear vision for the future coupled with effective mechanisms for the delivery of regeneration programmes is enabling positive change. Both Blyth Valley and Wansbeck have local strategic partnerships which are driving new community plans, and a number of major physical regeneration initiatives are well advanced or have been completed.
Strategic Framework
Inspire represents one of the key actions of the Northumberland Cultural Strategy created by the Northumberland Strategic Partnership (NSP) and adopted by all local authorities in the county. The NSP has also commissioned the Northumberland Public Art Plan (researched and written by Commissions North) which informs public art development throughout Northumberland. Inspire is part of the implementation mechanism for the plan with other practitioners and schemes in the county.
Inspire is a project of the South East Northumberland North Tyneside Initiative (SENNTRi) which was established through a task force charged with the regeneration of South East Northumberland and the A19/A189 corridor. SENNTRi has a fifteen-year action plan, 'Corridor of Opportunity', which has three key themes: 'Confident and Creative People', 'Competitive' and Sustainable Economy' and 'Connected Places'.
Within this framework Inspire has specific objectives:
To improve and refresh the image of Blyth Valley and Wansbeck through enabling artists to work collaboratively with other design professionals;
To realize and add value to public art plans within existing capital projects in Blyth Valley and Wansbeck, enabling artists to become involved at the earliest stages;
To liaise with Community Partnerships and organisations to realize and enhance the quality of environmental improvements;
To identify commission opportunities in new plans and proposals and maximise the funding available for them through percent for art policy, leverage and external funding;
To commission with funding from this project new schemes in Blyth Valley and Wansbeck;
To ensure that key stakeholders are appropriately engaged in public art and design development.
Inspire
Inspire was launched at the end of 2003. Artist and lecturer Richard Hollinshead was appointed to the full-time post of Public Art and Design Officer, for an initial contract running to March 2006, employed by the three collaborating local authorities and working under the SENNTRi initiative.
For the first two years, the project concentrated on setting foundations in place: establishing a database of artists, developing strategic commissions, drafting public art policies, pursuing Planning Gain and Percent for Art with developers, as well as involving the community.
During 2004, Wansbeck District Council and Blyth Valley Borough Council adopted public art policies. In the same year, the Northumberland Public Art Action Plan, mentioned earlier, was completed. The Action Plan recognises that Inspire has been the means of securing the only specialist local authority public art capacity in Northumberland.
Since 2004, Inspire has worked with local communities, local authorities, regeneration agencies and partnership organisations to achieve a significant body of completed projects, and many unfinished initiatives are still in the process of delivery. There is a high level of demand for new projects.
Following review of the initial two year phase, Inspire is now developing a more strategic approach to public realm improvements in its next phase. Priority will be given to 'fewer, bigger' projects and programmes which have a more strategic and thematic thrust. A move towards the integration of artists' creative input into design and planning frameworks will also be a feature of Inspire's future work.
Commissions
Many of the projects undertaken in the early stages of Inspire are freestanding permanent public art works. These include Colin Rose's Circle for the entrance of the Jubilee Industrial Estate and a framework sphere at the entrance to North Seaton Industrial Estate by Lee and Jill Brewster. Irene Brown has also been commissioned to create a number of sculptures for Wansbeck Business Park.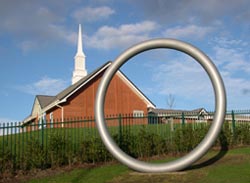 Circle by Colin Rose. Jubilee Industrial Estate.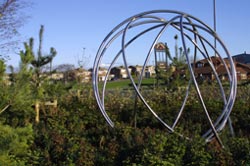 Untitled by Jill and Lee Brewster. North Seaton Industrial Estate.
Sarah Daniel's very popular exhibition of photography, Dislocating Depths, was installed underwater in the pool at Ashington Leisure Centre in September 2004.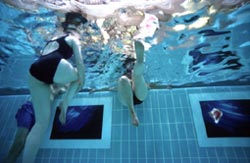 Dislocating Depths by Sarah Daniel, 2004. Ashington Leisure Centre.
Environmental works include, Richard Harris' major earthwork,'Think of Water', sited beside the Sustrans cycle network along the river Wansbeck.
Artists have worked with community groups in a number of ways. Cathy Duncan, Paul Merrick, Teresa Toms and Ted Taylor worked with local people for the Big Draw event in 2004. The artists had a 'studio' in the window of the Co-op stores at Ashington and Blyth, and the results of the project were toured around the district in a trailer.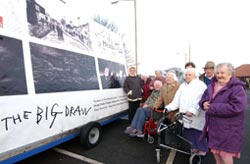 Community Involvement with the Big Draw, 2004.
Andrew Small was selected by local people to work with them to create mining inspired sculptures for the Hirst Community Home Zone initiative in Ashington. The sculptures represent mine shafts and seams, and when viewed reflected in their polished black granite bases, they give the impression of looking down from the top a mine shaft. Seating has been designed in the shape of a miner's tin bath.
Opportunities for students include a commission for MA Fine Art student, Ginny Reed, at Newcastle University to make nine images showing the desks of people in different professions, including an architect, a public affairs manager, a metal work technician, a librarian and a pub manager. The desks phtographs - ranging from uncluttered to chaotic - are installed at the Northumbria Business Centre at Ashington.
Projects in development include:
Klondyke Bridge designed by Cath Campbell and incorporating a changing lighting scheme by Jeremy Lloyd of Colourlight Ltd that creates waves or energy along the bridge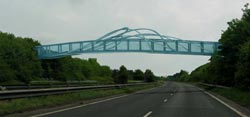 Proposal for Klondyke Footbridge by Cath Campbell.
Cath Campbell's project at Woodhorn Roundabout
Sean Henry's proposals for the Newbiggin Breakwater
Bob Budd's giant spoon designed for the Blyth Valley Wildspace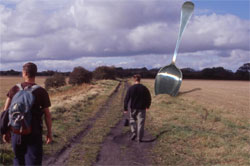 Proposal by Bob Budd for the Blyth Valley Wildspace.
Contacts
Nicholas Baumfield, Cultural Services Manager, Leisure Services department, Wansbeck District Council. Email: [email protected] www.wansbeck.gov.uk
Information on Inspire and commissions to date: www.senntri.org.uk (see Our Work)
Northumberland Public Art Action Plan 2004 - 2008: www.commissionsnorth.co.uk/publications
May 2006