The BBC White City Visual Arts Programme
The launch of Dig Ding Dong's temporary installation at BBC White City Phase 1 celebrates completion of the first stage of development of the BBC White City Public Art Strategy.
The programme was inaugurated in July 2001 with the appointment of artists Tim Head and Yuko Shiraishi who have been working with architects Allies and Morrison on permanent interventions that will have a profound visual impact on this new media village in West London. Over the last eighteen months Elizabeth Wright has also been completing proposals for the site's new pedestrian street with Landscape Architect Christopher Bradley-Hole. This collaboration has enjoyed support from the RSA's Art for Architecture scheme.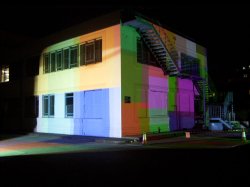 Projection, Tim Head 2002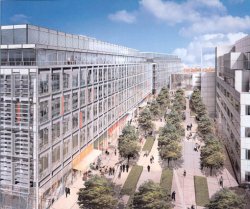 Proposal for new pedestrian street, Liz Wright 2002
Alongside these collaborations, a dynamic series of ephemeral and outreach projects has taken place. An ongoing Education and Outreach programme began this year with Artists-in-Schools schemes by Thomas Cox-Bisham for Canberra Primary School and Nikolaj Bendix Skyum Larson for Hammersmith and Fulham Secondary Schools. Both these projects have resulted in exhibitions held in selected public exhibition spaces within the borough and have been very successful in laying the foundation for future BBC visual arts and education projects for Hammersmith and Fulham. Nikolaj Bendix Skyum Larsen's project will be shown from February - to April 20th at Riverside Studios.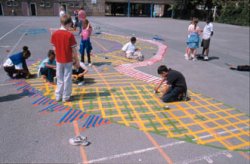 Thomas Cox-Bisham residency at Canberra Primary School
The appointment of BBC White City's first Artists-in-Residence, Bertrand Saugier and Pascal Thivillon of Dig Ding Dong, has culminated in the exhibition which will be announced in February 2003. The French artists have spent the past four months on site investigating the "ghosts" of White City's past. Shortly after this event American sound artist, Bill Fontana, will install a newly commissioned work in the White City Phase 1 building which will use real time broadcast of the clockwork and bell mechanisms of famous communication icon Big Ben.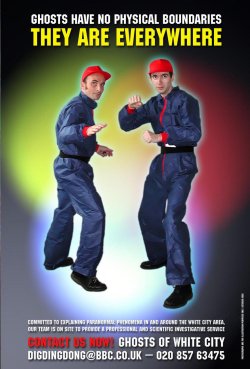 Advert by Dig Ding Dong, 2002
From September 2001 to December 2002 an audit of all BBC visual arts holdings was carried out culminating in the appointment of a permanent visual arts manager. During 2002, a video alcove was also established opposite the restaurant entrance in Phase 1 showing the work of young international artists. Finally a group of important works selected from the Arts Council Collection, including pieces by Leon Kossof and Mariele Neudecker, will be hung in White City Phase1. Future projects and events are being planned for the next three years of the White City development.
Director: Isabel Vasseur
Project Manager: Rebecca Ward
For more information please contact: [APM] ARTPROJECTMANAGEMENT Unit 1, 7 Chalcot Road, London NW1 8LH. T: 020 7483 3133 F:020 7483 3026 E: [email protected]