Art at the Met Office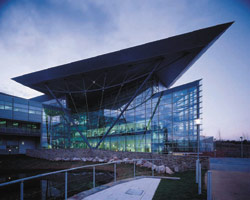 The Met Office, Exeter
This is the first time that the Met Office has commissioned artists to work in collaboration with staff and to benefit from the unexpected insights that arise from dialogue between artists and scientists.
The works contribute to the creation of a positive working environment that encourages innovation and recognises its position as one of the world¹s leading providers of environmental and weather-related services.
In May 2002 the Met Office in discussion with Maggie Bolt (PASW) appointed Tom Littlewood of Ginkgo Projects to develop and manage the implementation of an art programme that would enable artists to play a role in developing an innovative and stimulating working environment at its new headquarters in Exeter . The practice of working with artists within capital building projects is now expected within the development of public sector capital building projects; the Met Office is committed to supporting good practice across all its areas of operations.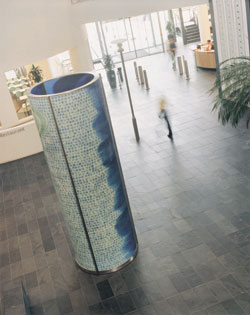 Blue Ascending, Green Descending
Alex Beleschenko, 2004
The aim of Art at the Met Office has been to reflect, promote and debate the activities of the Met Office through exploring the inter-relationships between art and science. The programme has three components based on promoting the work of artists at different scales within the building: a major commission for the central street, six artist placements and the exhibition Elemental Insight.
The commissioned artists explored through collaboration with staff, areas of shared subject interest. The resulting works of art provide an insight into the complexity and richness of a variety of Met Office work activities.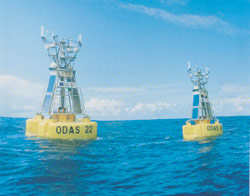 Automated Observations (detail)
Wenyon and Gamble, 2003
The Met Office is committed to establishing new partnerships within the South West. Alex Murdin of the Devon Guild of Craftsman was appointed to curate Elemental Insight, our first selling and touring exhibition of the work of twenty seven artists living and working within the South West of England. Four works from Elemental Insight were commissioned, although they will not be visible within the Met Office until the end of 2005. In addition to the commissions the Met Office will purchase a number of works, chosen by staff for permanent display.
Throughout the Summer 2004, artist seminars and workshops have been held for staff and families. These have given a further insight into the ideas and fabrication methods behind the works within Elemental Insight.
We have found the works are challenging, introspective, humorous or simply beautiful; together, they provide an intuitive insight into the delicate relationships that bind us to our environment.
Phil ip Mabe
Chair of the Art Project Board
2004
Contact for further details: Tom Littlewood: Director, Ginkgo Projects; Tel 01934 733406;
Email: [email protected]