ROE Highway Stage Seven, Western Australia
Creating Connections - Integrated Artwork Report
Integrating art, design, engineering, environment, and community
Following the successful completion of the Public Art Program for Roe Highway Stages 4/5 and 6, there was an opportunity for Main Roads WA to pilot a new method of Artist involvement for the Roe Highway Stage 7 project.  A specific procedure for Artist involvement was piloted and devleloped that would best suit the new Alliance Contract being implemented on this project.
Roe Highway Stage 7 comprised the design and construction of 4.5 kilometres of dual carriageway including socio-environmental infrastructures such as noise barriers, fauna underpasses, pathways, and screen walls with the aim to improve road safety, reduce freight transport costs and enhance community amenities and access between Midland/Kenwick and Kwinana and beyond.  The original direct cost budget for Roe Highway Stage 7 was $59.2M.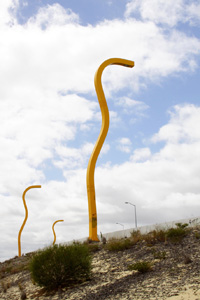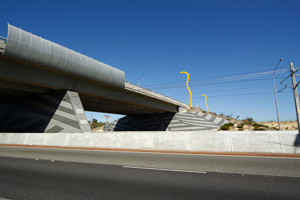 Left: Marker lights on Kwinana Freeway loop designed by Anne Neil, 2006. Roe Highway 7, Western Australia. Photo: Peter Zuvela.
Right: Kwinana Freeway Bridge abutment walls and marker lights on loop road above, designed by Anne Neil, 2006. Roe Highway 7, Western Australia. Photo: Peter Zuvela.
Roe 7 Alliance and Context Sensitive Design
Alliancing is a term used for a project delivery method based on creating a mutually beneficial relationship among all the participants.  The Roe 7 Alliance was a team comprising the companies Henry Walker Eltin, Maunsell Australia, and Clough Engineering working collaboratively with Main Roads WA.  The Alliance presented an excellent opportunity for government, industry and the community to work in true collaboration to deliver value for money outcomes beyond business as usual.
The Alliance Contract for the design and construction of Roe Highway Stage 7 was signed in early November 2003 and was completed in March 2006.

For Roe Highway Stage 7, a Context Sensitive Design approach was adopted. Context Sensitive Design recognizes that a road, by the way it is integrated within the community, can have far-reaching impacts beyond its traffic or transport function.  Context Sensitive Design refers to the approach, the process and the outcome.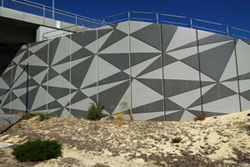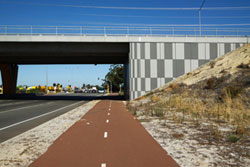 Left: Karel Avenue Bridge abutment walls, designed by Anne Neil, 2006. Roe Highway 7, Western Australia. Photo: Peter Zuvela
Right: South Street Bridge abutment walls, designed by Anne Neil, 2006. Roe Highway 7, Western Australia. Photo: Peter Zuvela.

You can download the full report here, compiled by Andra Kins, Project Art Consultant for Roe 7 and Anne Neil, Project Artist for Roe 7, as a Word document: 2.4 MB