Skipton Renaissance Market Towns Project
Yorkshire based Chrysalis Arts was commissioned by Craven District Council to create temporary art installations in Skipton High Street to engage people in ideas of transformation and change. The High Street has remained unchanged for over 100 years and, as well as being a main thoroughfare for traffic, hosts a street market four days a week. The commission was part of a Renaissance-planning weekend initiated by the Regional Development Agency, Yorkshire Forward.
Chrysalis invited a team of artists, makers and local craftspeople to work with the company to create a series of artworks over the Renaissance weekend. On Saturday, a team of local dry stone wallers made a low, snaking wall down the centre of the high street. This narrowed the street to minimum width for traffic and reduced traffic speed to 5 mph, and generated substantial interest from passers by. In the evening, the walls were covered in flee c e and people were invited to sit in the centre of the road and view their town from a place usually inhabited by motor vehicles. Between the walls, artist Sue Flowers installed Wheel of Change a kinetic sculpture wrapped in fleece which challenged perceptions of the everyday environment.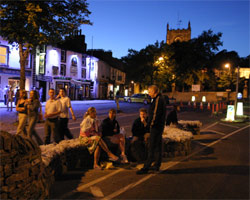 Stone and fleece wall designed by Sue Flowers, constructed by Philip Dolphin.
Photo: Porl Medlock
Video artists, Joanna Millett and Debby Akam, spent a month filming in Skipton and made two pieces of work which were screened over the weekend. Joanna created Comings & Goings a video of pictures and sounds of Skipton High Street, mixing contemporary images with old photographs which showed cattle filling the street which is now dominated by cars and lorries. Debby Akam's, Exchange , comprised five video loops showing how urban meets rural in an intimate and visceral way. It was shown in five windows of a High Street shop.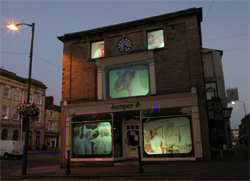 Exchange by Debbie Akam Power, 2003.
Photo: Porl Medlock
Artists Helen Turner and Van Nong worked on a piece called The Fullness of Time on the front of Skipton Town Hall . The work transformed the front of the Town Hall into a giant illuminated clock face. A series of banners showed hourglasses filling with sand rather than sand running through, a metaphor of time coming to fruition rather than running out.
After years of investment in urban regeneration, market towns and their rural hinterland have begun obtaining resources to develop strategies for the 21 st Century. Skipton has employed artists from the outset to help in the visioning process and explore the possibilities of its future, in this case with temporary installations. The artists' interventions helped explore issues of traffic versus people, the future role of market towns and how Skipton can remain a vibrant and forward-looking centre for its rural community.
The project was funded by Skipton Town Council, Craven District Council and Yorkshire Forward.
Further details from: Chrysalis Arts Ltd, The Art Depot, Asquith Industrial Estate, Eshton Road , Gargrave, North Yorkshire BD23 3SE
Tel 0044 (0)1756 749222, e-mail [email protected] , www.chrysalisarts.org.uk