Public Art - Where Shall We Start?
A seminar about public art in the Borough of Poole, Dorset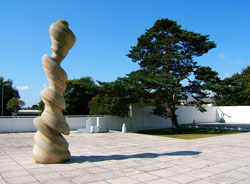 Trisome by Anthony Cragg RA
Study Gallery, Poole, 2000
Photo: Nicky Whittenham
A seminar to advocate on public art issues and to explore ways to enhance and implementation of public art in the Borough of Poole, was held at Lighthouse, Poole on 15 March 2007. The event was organised and run by the Council's Arts Development Team, in partnership with Southampton City Council Officer and associate public artists. Delegates included Elected Members, Council Officers and external partners. The DVD was commissioned from film-maker Ian Phillips from 'Voice-on-a-Stick' in Devon.
View the DVD now
*To view this documentary you will need the freeQuickTime plug-in for your web browser. If youdon't already have QuickTime plug-in you can download it for free at the Apple site at http://www.apple.com/quicktime/download/.
Further details: Nicky Whittenham, Public Art Officer, Borough of Poole. Tel: 01202 262616; Email: [email protected].