Royal Aberdeen Children's Hospital
Fifteen artists, including sculptors, photographers, textile artists, graphic artists and furniture designers from across the UK have made site specific artwork throughout the four public floors of the children's hospital. The work includes specially designed seating, colourful signs, flooring designs, photography lenticulars, environmental graphics, light boxes, works in paper and wire, a water feature and sculptures in courtyards and on roofs. With an arts budget of £600,000, this is the first children's hospital in Scotland to commission artists on such a scale.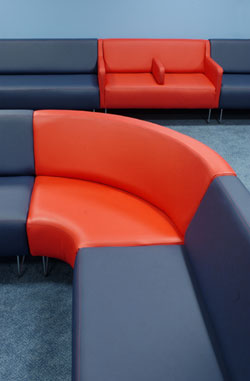 Seating designed by Matthew Hilton, 2004.
Traditionally, art in children's hospitals has focussed on the under 5 age group with a predominance of bright primary colours, familiar representational images and highly decorated environments. Through research into hospitals across the UK and a thorough pre-planning exercise including workshops with staff, patients and the Young Advisers Group (made up of children from 7 schools from the region), an art strategy for the new hospital was drawn up. The strategy is based on the following premise: that children have a higher visual literacy than we give them credit for and can appreciate and enjoy a wide range of art (including challenging and conceptual art).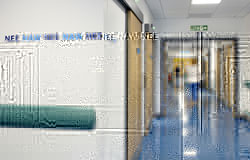 Fun Fact by Lucy Richards, 2004.
The challenge for the artists was to create an environment which was non-institutional yet recognising that it is a hospital: engaging but not disturbing; and of interest to children of all ages as well as adults. The artists have been encouraged to extend their practice, working in different media and scale. Lucy Richards, a graphic designer accustomed to working in print, has produced graphic designs for walls, columns and floors, as well as colourful, bold signage; Michael Brennand-Wood, in a move away from his traditional medium of textiles has created a kinetic work using sand and found objects exploring the passage of time; Lucy Casson renowned for her small scale recycled works in metal has created life size plaster creatures for the hospital roof; and Allan Watson has made a family of objects which hover between sculpture and seat.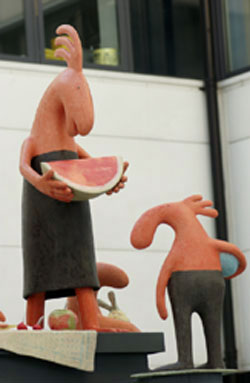 Feast by Lucy Casson, 2004.
Other works include a wall embedded with thousands of buttons; postcard light boxes interpreting the artist Jane Watt's journey around the north east of Scotland; a spiral sculpture wrapped with fibre optics inspired by the slinky toy by Jim Buckley; a garden of 'imaginary' Scottish trees by Dalziel and Scullion; a paper construction by Georgia Russell based on traditional north east songs; and wire garments based on healing plants and children's drawings by Julia Griffiths Jones.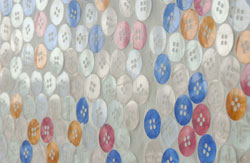 Button Wall (detail) by Jane Watt, 2004.
Education projects relating to the arts project are taking place in conjunction with Aberdeen City Council Education services including a resource pack for schools, practical workshops in making tin sculptures, a miniature garden competition with primary schools, an INSET day and artists' talks and tours.
The £600,000 arts project has been made possible by funding from the Scottish Arts Council Lottery Fund, The ARCHIE Foundation, Aberdeen City Council and NHS Grampian. The arts strategy and commissioning was undertaken by arts agency P.A.C.E (working with the arts group) who oversaw the collaboration between the artists, Mackie Ramsay Architects, the Young Advisers Group, Grampian Hospital Trust and hospital staff.
Further information: Juliet Dean, Director, P.A.C.E. Tel: 0131 620 0445
Email: [email protected]