Art in Transit
Public art programmes which integrate the work of artists into public transport infrastructure, and which consult closely with local residents, are well established in the US. The following article by Federico Cura, reporter for Passenger Transport, gives an overview of some of the arts in transit programmes. It was originally published in August 2001 in Passenger Transport, the weekly newspaper of the American public transportation industry. It is reproduced here by kind permission of the American Public Transportation Association. Photographs: Courtesy of Passenger Transport (except where indicated)
Links to other arts in transit sites are included at the end of the article.
Art on Transit Brings Benefits Beyond Mere Beauty
By Federico Cura
Reporter, Passenger Transport
"There is a kind of transit cities used to be very rich in... the kind that is part of the fabric of the city itself, doesn't just go overhead and take people whoosh, but links all kinds of places within the city and that's the kind of transit we need to reconstitute... In a really healthy city, it's something that knits the whole thing together..."
Jane Jacobs
The Death and Life of Great American Cities, 1961
The trend toward incorporating art and design into existing and future public transit operations became increasingly popular during the 1990s, and continues to grow. However, many public transportation agencies are finding that a process that began with a simple interest in improving aesthetics of public transportation also is producing unexpected additional benefits, such as improved passenger travel experience, better community relations, and reduced vandalism.
Transit agency interest continues to grow in incorporating artworks and aesthetic design into rail cars and buses, bus stops and shelters, rail stations and terminals, intermodal centers, and other places. Increasing numbers of transit agencies are commissioning works or trying to establish a process for incorporating art into new starts, said Rebecca Banyas, a public transportation consultant on arts issues.
"The interest has been growing by leaps and bounds," agreed Fred Williams, policy analyst at the Federal Transit Administration Office of Policy.
Before becoming a consultant, Banyas created the permanent arts program at the Tri-County Metropolitan Transportation District of Oregon in Portland, and led it for seven years.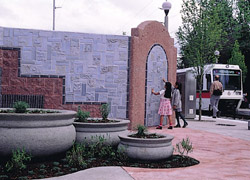 More than 650 people created tiles for a 140 ft long wall along the platform at Tri-Met's Washington Street/SE 12th MAX station in Hillsboro, Oregon. The artist is Linda Haworth.
Transit agencies want to know where to find and select artists, how to present their case to the board, and how much money and staff to allocate to the project, she said. At a number of agencies, artists now routinely participate in the new starts design-planning process, trying to make the final product more aesthetically pleasing or stimulating. According to Banyas, more than 30 transit agencies have been active in bringing art to transit in the past 10 years, noting the wide variety of art-related projects being created.
A Wide Variety of Artworks
Examples of transit-related artworks range from buses painted by people at a community fair in St. Louis to a colorful multi-media fluorescent light and sound show at the entrance to a Washington Metrorail station. While the Los Angeles County Metropolitan Transportation Authority's Hollywood/Vine Station on the Metro Red Line is decorated with old movie reels and antique movie cameras, a refurbished intermodal transit center serving ferry riders in Bremerton, Wash., also incorporates artistic elements.
The increased emphasis on art in the transit industry in the past five years coincided with a doubling of public art programs nationwide, said Renee Piechocki, Public Art Network facilitator at Americans for the Arts, an arts advocacy organization and clearinghouse of art information. The network is an e-mail mailing list for public art professionals, many of whom work or have worked on public transit projects.
Piechocki said interest seems to be growing on getting artists involved in projects as early as possible, as opposed to the earlier practice of bringing artists in at the tail end of projects, adding art to already built or designed transit facilities.
Also, some agency art programs have started to broaden their scope. Maya Emsden, director of the LACMTA's Metro Art program, noted that the system is moving beyond its success in rail settings to increase the number of bus-oriented projects.
All sources agreed that the public is very supportive of arts projects in transit facilities in their communities. In cities such as New York, Portland, and St. Louis, the public has come to expect artworks when a rail station is built or restored in their communities.
Emsden said part of the high public approval level comes from the way transit agencies may customize station artworks to reflect the ethos and culture of the surrounding area or community. Art can help a station or bus shelter blend into the fabric of a community by personalizing a transit facility and connecting it visually with the history and culture of the site, and transit patrons may feel recognized and more respected if their ethnic heritage is acknowledged with artworks and designs at the transit sites that they use.
Many art-in-transit specialists recognize that including artworks in a rail expansion project proposal tend to foster greater community support and acceptance--increasingly a factor in rail transit expansion, Emsden noted. Banyas said new start plans that incorporate art trigger overall greater public involvement, which ultimately helps build a more accepted facility.
A Way Around Vandalism
Agency sources concur that bus shelters and subway walls featuring art are less likely to become targets of vandalism, Banyas offered. Transit maintenance crews and officials in cities including Seattle and Portland have begun asking that artworks be placed in areas likely to be targeted with graffiti, etching, scratches, or the like.
Empty walls often become targets of vandalism, said Emsden, adding that vandalism and graffiti cost thousands of dollars to a transit agency every year. FTA's Williams explained that a station decorated with art deters vandalism because it gives people the sense that someone--the transit agency--is in control. With art, a transit station or stop becomes a landmark, he offered; it creates "a sense of place" that makes transit more inviting.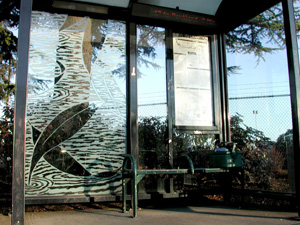 Sandblasted glass bus shelter.
In Portland, Tri-Met recently decided to start sandblasting glass panels at all its bus stops to curb vandalism, said Mary Priester, the system's public art manager. Each year, approximately 750 glass panels are so severely scratched by vandals that they must be replaced at a cost of about $200 each. Tri-Met's art office will remove vandalized panels, sandblast them with motifs designed by artists, and reinstall them. Etching the glass by sandblasting removes the scratches at a cost of under $20, which is expected to save Tri-Met at least $100,000 annually, Priester noted.
FTA Sets Guidelines
On the funding side, the Federal Transit Administration (FTA) issued a set of guidelines and associated brochures in 1995 and 1996 that helped clarify the agency's position on the use of federal funds for art projects. Although the FTA always allowed the use of funds for arts, the guidance document was meant to clarify what was perceived as a somewhat unclear federal policy; it said that agencies are allowed to use federal funds to pay for art projects.
Since then, a number of agencies have earmarked from 0.5 percent to 2 percent of their capital funds for qualifying projects to use in art and design enhancements. For instance, New York City's Metropolitan Transportation Authority dedicates 1 percent; Tri-Met dedicates a 1.5 percent share; and the LACMTA allocates 0.5 percent of rail construction funds to rail-system enhancement through the arts. Other funding of transit art projects comes from state and city arts councils, the private sector, and foundations.
In St. Louis, the Bi-State Development Agency has tried more innovative finance to underwrite its arts projects, said Jenny Strayer, public arts program manager. While Bi-State covers operating expenses and design fees for capital projects, the arts office has received grants from the Missouri and Illinois arts councils, the Regional Arts Commission, the private sector and foundations, in addition to the FTA and other sources. Bi-State's Arts in Transit program plans to continue teaming up with area businesses and community groups to help finance projects.
"Adopt the Arts," a program of Boston's Massachusetts Bay Transportation Authority, allows individuals or organizations to make tax-deductible contributions to help maintain MBTA's extensive transit art collection. The system's artworks include murals, sculptures, forged iron, ceramic tile, stained glass, granite monuments inscribed with poetry, and art benches painted by high school students.
Despite the increased prevalence of art-in-transit projects, some sources believe many in the transit industry remain unaware of the FTA guidelines and do not realize they can use federal dollars to pursue art projects. Some people in the industry may believe they would be unable to justify the cost of incorporating art and design before the FTA, local boards, city authorities, and taxpayers.
Introducing a brochure explaining the 1995 guidelines, former FTA Administrator Gordon Linton referred to the numerous transit projects that received design awards in a National Academy of Arts competition in 1996. "Few public investments surpass transit's inherent potential for improving neighborhoods and the quality of passengers' daily lives through art and design," he said.
Bi-State's Partnership with Community
Bi-State created its Art in Transit program in 1986 to participate in the design of the MetroLink light rail system, said Strayer. MetroLink has received design awards from the National Endowment for the Arts and U.S. DOT and, according to Strayer, it was the nation's first light rail system to be designed by a team that included visual artists.
By integrating public art and urban design into transit, Bi-State has created numerous community partnerships that bring resources and local talent into the arts program, she said, adding that the program also strives to build a personal connection to people using the system. For example, the floor of a bus stop was designed to serve as a permanent memorial for six children who died in a 1999 house fire--across the street from the stop--that shocked the community, Strayer noted. Neighbors and children from the area helped design an innovative "magic carpet" for the bus stop that expressed their grief and love for the deceased children.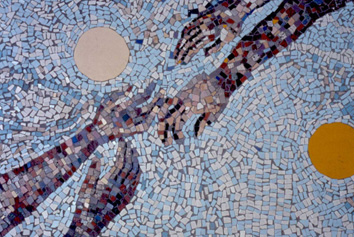 A detail of the 'magic carpet' mosaic at a Bi-State Development Agency bus stop in St Louis. The design commemorates six children who died in a house fire near the bus stop.
St. Louis' transit artworks vary widely. In one instance, fluorescent lights displayed along a light rail tunnel give the rider a "rush of color and light coming through the window," she noted.
For the past 11 years, Seattle's King County DOT/Metro Transit has sponsored the Bus Shelter Mural Program that turns all non-glass panels of a shelter into components of a painting. After the project is approved, schoolchildren of different ages, as well as senior citizen groups, paint the panels, which are later attached to an otherwise plain and industrial-looking shelter, explained Dale Cummings, transit planner and program manager for the mural program for King County Metro.
With approximately 60 percent of Seattle's shelters painted, Cummings said, the program has been a great success in reducing vandalism, fostering good community relations, and engendering community pride in a more personalized transit facility. The 100 shelters painted annually, costing King County Metro approximately $25,000 in materials and $40,000 in staff time, also make Seattle a friendlier-looking and more attractive city to visit, he said.
One goal of the Los Angeles system's arts office is to make transit more appealing to the car driver, Emsden said, noting that the LACMTA has contracted with more than 230 artists over the years.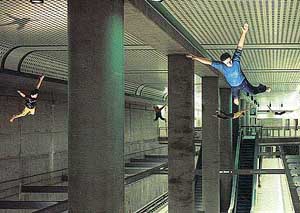 I Dreamed I Could Fly by Jonathan Borofsky, 1993. The flying figures soar above the platform of the Civic Center Station on the Los Angeles County MTA to the accompaniment of a bird's song.
Artists, design professionals, and community members are brought together in the design of rail transit facilities and construction mitigation programs. "No one anticipated 10 years ago how popular the arts program would be," Emsden noted.
Art in transit has even become a tourist attraction in Los Angeles. The LACMTA, like some other transit agencies, has dozens of volunteers, operating similarly to museum "docents," who give tours of artworks and architecture at 50 light rail and subway stations. LACMTA also has sponsored series of photo essay bus cards, collectible bookmarks, and art enhancements to its Customer Service/Ticket Centers. Similarly, Tri-Met has designed anything from seat benches to trash containers.
New York's MTA set up the Arts for Transit program in 1985 to bring new artworks into the system, said Sandra Bloodworth, director of the program. The artworks, some permanent installations and some temporary exhibits, represent a broad spectrum of styles. Art is a significant element of the MTA's comprehensive station redesign program, noted Bloodworth, who has worked on arts at the MTA since 1988.
As interest in the New York MTA's arts program has steadily grown since the late 1980s and early 1990s, the agency has received many inquires from other agencies interested in starting their own transit-related art projects.
Artist selection process
The process for selecting an artist and artworks is crucial to creating a work of art that will be enjoyed by the most people and that can foster community support, Williams noted. Almost all transit-agency art programs have included in a selection board an artist-often a public art professional-and a member of the community, said Emsden. Also, the arts program needs to maintain a fluid communication with other parts of the transit agency, she added.
When an agency wants to incorporate art into a New Start project, avoiding reproductions and getting the artist involved at the planning and design stages is essential to achieve the greatest degree of innovation, and the best possible work, Emsden continued. Art in transit cannot be used for marketing or public relations purposes, she and others emphasized, because it ceases to be art and faces funding obstacles. The LACMTA tries to give artists maximum flexibility to generate ideas. "We've always been pleasantly surprised with the results," Emsden remarked. The arts-in-transit projects often serve another important service to society: it provides an important venue for local artists, she said.
Smaller Agencies Participate
Smaller transit agencies and city governments also have begun incorporating art into transit operations. A bus transfer center in Covington, Ky., is the site of the Transit Authority of Northern Kentucky's large mural, of which the first part was finalized in June. Gina Douthat, director of communications and development and project manager for Artistry in Motion, described how the lively mural incorporates old and new photographs inside a painted, long filmstrip showing different places in town while revealing how public transportation had evolved over time. For example, old photos of mule-pulled carts and trolley-filled streets contrast with today's bus-filled streets.
Kerry Adams, public art supervisor for the city of San Buenaventura, Calif., described how the city north of Los Angeles hired internationally recognized public art professional Dennis Oppenheim to redesign its main bus transfer center. The New York-based artist proposed to shape the shelter section of the center to resemble a large bus sinking into the ground and re-emerging morphed into a house. The design thus portrays a bus shelter and an overall transit experience that is "uplifting, positive and spirited," said Adams citing Oppenheim's words.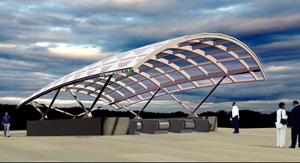 The Washington Metropolitan Area Transit Authority recently approved this canopy design for placement over exposed street escalators at 46 subway stations in Washington, D.C., Maryland, and Virginia.
FTA's Williams noted the crucial importance of the selection process for an artist and artworks if the works are to be enjoyed by the most people and foster community support. Selection boards often include at least one artist, often a public art professional, and a member of the community.
The arts program also needs to maintain fluid communication with other parts of the transit agency, said Emsden, adding that when an agency wants to incorporate art into a new start project, it is essential for the artist to be involved at the planning and design stages to achieve the greatest degree of innovation and the best possible work. Art in transit cannot be used for marketing or public relations purposes, she emphasized, because then it ceases to be art and faces funding obstacles.
Emsden noted that the LACMTA tries to give its artists maximum flexibility to generate ideas, and "We've always been pleasantly surprised with the results." The arts-in-transit projects often serve another important service to society by providing an important venue for local artists, she said.
Williams pointed out that U.S. DOT's interest on increasing the use of art in transportation dates back to long before the FTA enacted its 1995 guidelines. A department report from 1980 outlines the incorporation of design, art, and architectural concepts into transportation facilities, followed by guidelines; however, Ronald Reagan suspended the project soon after assuming the presidency.
Transit Art: Historically Important
Incorporating art in transit settings such as subways, and in public spaces such as parks, was a common, well-accepted practice until World War II. Artwork was an integral part of the design of the original New York subway system in the early 1900s, and much of the original ceramic and mosaic ornament remains. In Paris, the elaborate design of entrances to the Metro became a landmark of the Art Nouveau era of the late 1800s and early 1900s, Williams noted. However, World War II was followed by decades of construction ruled by a more utilitarian style.
During the late 1980s and 1990s, Emsden said, transportation officials began to question the postwar thinking that transportation implied almost exclusively a way to get from point A to point B, and started to focus on ways to improve the overall transportation experience.
"Public transportation involves much sitting, standing, waiting," she continued, but thought-provoking art and aesthetic design help personalize transit facilities and can bring a touch of humanity to an often overly mundane commute.
The DOT's interest on increasing the use of art in transportation started long before the 1995 FTA guidelines, said FTA's Williams. The DOT issued in 1980 a report outlining how to incorporate design, art and architectural concepts into transportation facilities followed by guidelines, which President Ronald Reagan suspended soon after assuming the presidency.
More Than Visual Arts
In addition to visual arts, many other art forms can be found in transit settings. For example, poetry is often intertwined with visual arts. A number of transit agencies have had poetry-in-buses programs for decades, and they continue to be one of the most popular art forms in transit. Poems are typically placed next to, or in place of, ads inside the buses. Los Angeles sponsored live poetry readings at bus stops, while St. Louis and other cities conduct annual poetry contests.
Also, live music has become synonymous with subways in New York and in other cities. Even dance and theater are becoming popular art forms at many transit centers. LA Metro Art partnered with the Museum of Contemporary Art in downtown Los Angeles to help produce a series of plays staged on board a real Metro Bus parked inside the museum.
Related Links
Los Angeles County Metropolitan Transit Authority
http://www.metro.net/about_us/metroart/default.htm
Tri-Met Public Art Programme, Portland, Oregon
http://www.trimet.org/publicart/index.htm
American Public Transportation Association - links page to individual transit websites
Tyne and Wear Metro, UK (run by Nexus)
http://www.nexus.org.uk/wps/wcm/connect/Nexus/Art+on+Transport/Art+-+Home+Page