Silica
School and college community project
Liz Milner, an artist who specialises in photography, was brought in by Lesley Greene and Diane Hatton to make links with the community.
She came to the June presentations by the short-listed artists and was impressed by the Silica team's observation that 'in Big Lamp Corner there's no sense that the sea is close but there's sand drifting around'. She was also struck by 'the extraordinary mix of architecture there from Victorian to art deco, that's almost like a geological stratification'. Liz Milner then decided to base her community project on 'what it is that creates a sense of place and how artists can transform a space into a place, a process that begins with careful looking'.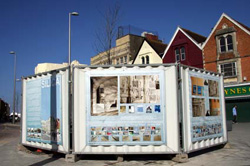 Art exhibition
Photo © Liz Milner 2006
At that meeting, Liz Milner met Lyn Biddle, who had just set up a new course at Weston College – a Foundation Degree in Fine and Applied Arts with an emphasis on public art. This led to Liz Milner working with students from the college between November 2005 and April 2006. She wrote part of a module that included her brief to the students. She presented her work to the students and talked about her interest in 'a sense of place', and the students drew and photographed Big Lamp Corner.
Liz Milner also worked for one afternoon with a class of six- and seven-year-old pupils from Herons' Moor Primary School. They were asked 'what makes a place a place?' and taught how to use a camera. At Big Lamp Corner the children photographed 'a whole range of surface detail – doors, roofs, signs, shop displays, seating, ornament etc.' On the beach they worked with Peter Milner, also an artist, and made drawings in the sand of natural and man-made shapes; he then photographed these drawings.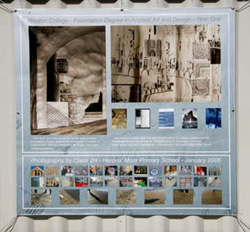 Art exhibition
Photo © Liz Milner 2006
With input from Weston College Students, Liz Milner designed five panels comprising a selection of the students' and schoolchildren's photographs and drawings, plus contextual information. The layouts were printed onto 3.75m tarpaulins and in spring and summer 2006 these were attached to the cage erected around Silica during construction.