About Ixia
Services
Offering advice and information on all aspects of good practice.
Encouraging and stimulating debate on current practice via the Regional Network and other events.
Encouraging new skills and approaches through organising seminars and training for artists, craftspeople and other professionals involved with urban and rural development.
Promoting activity in the south west region, nationally and internationally.
Initiating and supporting projects which encourage long-term development and sustainability.
Undertaking developmental work with local authorities and other public and private bodies in order to develop public art strategies and policies.
Working closely with public art consultants and providing contacts for consultants as well as artists and craftspeople who can undertake a project management role.
A Short Film About Public Art South West
Public Art South West is the subject of a short documentary commissioned by the Local Government Channel, produced by HBL Media limited. The film focuses on two recent Public Art South West projects. These are the concept design work for a new visitor centre at Durlston Castle in Dorset with artist Lulu Quinn and the regeneration of the Barton Hill area of Bristol.
View the documentary now*: small | medium | large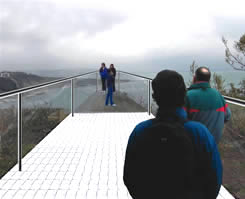 Concept design work for visitor centre by Lulu Quinn
Durlston Castle, Dorset
The lease on Durlston Castle in Swanage, Dorset,was purchased by the South West of England Regional Development Agency in 2003. Together with DorsetCounty Council, they plan to transform the site into a gateway centre for the Jurassic Coast. This £6million pound scheme is part of the Jurassic Coast Art Strategy and will involve artists making links between the historic and contemporary significance of the site.
While this is very much a work in progress, the artist Lulu Quinn was appointed as an integralpart of the design team to challenge preconceptions and broaden the imaginative vision for the project. Lulu Quinn brought an innovative approach to the design and interpretation of the site. One of her first roles was as a member of the interview panel to select the architects Long and Kentish. Ongoing evaluation of the project, by PASW, indicates thatsignificant respect has been developed for the skills she has brought to the job.
A PROJECT Creative Homes Award was made to the Sovereign Housing Association in 2005. David Cotterrell, artist, worked as part of the project team developing the second building phase of a regeneration programme in Barton Hill, Bristol. The sensitivity of approach, especially with local people, towards achieving high quality design in a new development of 50-60 new homes in a context of traditional Victorian terraces and 1970s tower blocks was the challenge of this project.
*To view this documentary you will need the free QuickTime plug-in for your web browser. If you don't already have QuickTime plug-in you can download it for free at the Apple site: http://www.apple.com/quicktime/download/.
PASW Director Maggie Bolt talks to the Big Art Project about public art commissioning.
The Channel 4 Big Art Project is inspiring and creating unique works of public art in selected sites across the UK.
You can watch Big Art weekly from Sunday, 10 May at 7pm on Channel 4.
If you are having trouble watching the clip below - please follow this link to see the film on the Big Art Project website.