Three Rivers District Council
Designing Open Spaces for Recreation (reproduced by kind permission of Three Rivers District Council)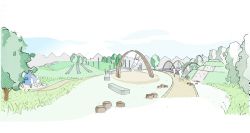 Lead Artist / Maker of Change: Simon Lee Dicker, Landscape Architectural Renderings: Oliver Rock
Through the Green Heart Partnership, artist Simon Lee Dicker joined a team of officers across several departments at Three Rivers District Council to develop visual concepts for imaginative and creative open spaces on future developments of any size.
Based around central ideas of inclusion, sustainability, and biodiversity, the team developed a vision which will bring the great outdoors to the heart of our urban communities, and allow the whole community to enjoy our green open spaces together. The publication of 'Designing Open Spaces for Recreation' marks a major new contribution to the theory and practice of planning our open spaces, and will have national implications for how communities relate to their urban environments.
The document has been developed to support the evolving strategic plans from the Planning Policy Guidance 17: Planning for Open Space, Sport and Recreation. The information in the guidance document provides residential developers with more details on TRDC local planning policy L10 and L11 for the development of all future open spaces in the district. Already recognised as a model of good practice nationally, the vision mapped out by Simon Lee Dicker and the team from the Three Rivers District Council and the Green Heart Partnership is an invaluable tool for developers, provides inspiration for local councils across the country, and offers practical guidance which is rooted in the most progressive thinking on regeneration issues.
Simon worked with the team to look at traditional planning challenges with an artist's eye, and devise an innovative programme for addressing community recreational needs, and environmental concerns. Though the project originally developed to design an ambitious concept for a specific play area, the TRDC team identified a more sustainable opportunity that would assist planning officers and developers. GHP, Simon Lee Dicker and landscape architect Oliver Rock worked with Planning and Leisure Services officers to develop supplementary planning guidance notes that encourage innovative, creative development of a recreation environment that engages diverse age groups, and serves a range of uses.
Simon Lee Dicker said, '"Designing Open Spaces for Recreation" challenges notions of the role of the artist and encourages a holistic approach to the design and understanding of our public open spaces. Moving away from the idea of "park" consisting of segregated areas for various forms recreation, the model we havecreated encourages the integration of art, environment and play and will provide 'open spaces' to be proud of.'
Green Heart Partnership (GHP) is an initiative between Arts Council England, East and the eleven local authorities of Hertfordshire that aims to effect social change through policy development and realise creatively led capital development through informed joined-up decision making across arts and environment sectors.
For more information about GHP visit www.greenheartpartnership.org
Follow this link to download Designing Open Spaces for Recreation as an Adobe Acrobat document: 979Kb
To be able to open the document you must have the Adobe Acrobat reader. If you do not have Adobe Acrobat follow this link to download it for free.
Follow this link to find out more about Acrobat Reader document accessibility features.