Landcom Corporation, New South Wales, Australia
Public Art Guidlines
Landcom is the state development corporation for the New South Wales Government in Australia and plays an important role in delivering the State Government's objectives for Sydney's urban growth and development.  The corporation was formed to undertake and support residential, commercial, industrial and mixed development projects, and to provide advice and urban development services to government agencies and other organisations.  Landcom works in partnership with the private sector, local councils, government agencies and private landowners to achieve its goal of creating the best possible foundations to build communities.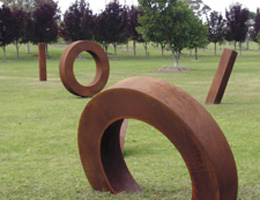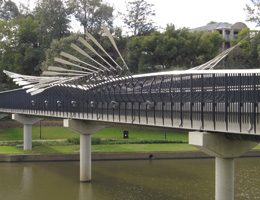 left: Digital Litter, The Ponds Parkland, by Marcus Tatton
right: Bridge of Oars, spanning the Parramatta River, by Milne Stonehouse.
both images © The Landcom Public Art Guidelines, Landcom 2008,
www.landcom.com.au/theguidelines

In 2008, Landcom published a suite of seven design guideline booklets, including Public Art Guidelines, which provide a comprehensive and integrated conceptual approach to creating new residential areas which have individuality, beauty and relevance for people.  Their purpose is to inform and guide Landcom's staff, its development partners, local government and other stakeholders.  The illustrated booklets include guidelines for Street Design, Built Form Design, Universal Housing Design, Open Space Design, Street Tree Design and Community Centres.  Each guideline has a set of principles that spell out the essence of what makes memorable places and spaces, from how they are built to how they are used and managed. 
Landcom has also been running regional seminars for design and development professionals to present the guidelines and to further debate and discussion on the importance of making better communities and places.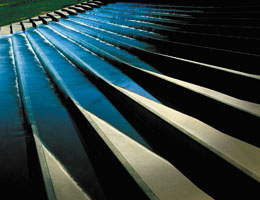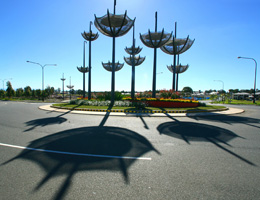 left: Storm Waters, at Victoria Park in Zetland, by Jennifer Turpin and Michaelie Crawford
right: Float, intersection at The Ponds, by Susan Milne and Greg Stonehouse
both images © The Landcom Public Art Guidelines, Landcom 2008,
www.landcom.com.au/theguidelines
The Public Art Guidelines were researched and written by an independent public consultant and artist, Marla Guppy. They cover Landcom's public art policy, what public art is and where it can be, the benefits to communities and key principles for commissioning public art which is relevant and enduring. A practical section describes in detail how to set about managing a public art programme, commissioning artists, the selection, design and fabrication process, maintenance and eventual decommissioning.  
Follow this link to download Landcom's Public Art Guidelines (2008) as an Adobe Acrobat document: 1.20 MB
Follow this link to Landcom's website for further information and to download the full set of guideline publications